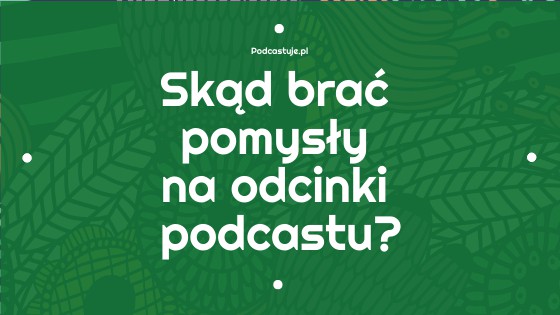 Pomysł na odcinek podcastu. Gdy już nie masz ani pół idei.
Jeśli masz pomysł na odcinek podcastu albo nawet na cały podcast i to tylko dla siebie – rób jak Ci się podoba.
Czy to ma być tylko zabawa, przyjemność, radość tworzenia?
Niech Ci nic nie przeszkadza!
Najprostsza metoda, która nie potrzebuje niczego poza Twoim czasem:
Znajdujesz pomysł na odcinek podcastu.
Bierzesz mikrofon, opisujesz, co chcesz powiedzieć, nagrywasz, wrzucasz w sieć i gotowe!
Zagrożenie: Może pomysł chwyci, a może nie.
A jeśli zamierzasz włączyć podcast w swoją markę osobistą…
Albo budować nim markę firmy…
Mam dla Ciebie kilka pomysłów skąd brać pomysły
Dzięki tej metodzie zaoszczędzisz mnóstwo czasu i wór pieniędzy.
Czy też jesteś w stanie zapytać 10 osób im ideę?
Wyznacznikiem kierunku są ich odpowiedzi. Jeśli każda osoba Ci odpowie, że to bardzo przydatny pomysł, że warto o tym nagrać podcast, to idziesz w dobrym kierunku. Prawdopodobnie znalazłeś lub chcesz znaleźć problem, który przeszkadza jakiejś liczbie osób.
To może być dobry trop do znalezienia ogólnej myśli do podcastu
Zaspokojenie potrzeb słuchaczy to dobry kierunek.
Do sukcesu potrzeba jeszcze skutecznej realizacji, efektywnego marketingu i odpowiednio dużej konsumpcji odcinków.
Przyda się też rosnąca ilość odsłuchów
Skąd brać pomysł na odcinek podcastu?
Z Twojego doświadczenia
Jaki problem ostatnio Cię zajmuje? Jak go można rozwiązać?
Czy jest jakiś blog lub kanał na YouTube/podcast, z którego korzystasz, ale zawsze masz wrażenie, że nie jest w stanie zgłębić się dostatecznie w temat?
Ważne: jeśli znajdziesz temat, na który chcesz robić odcinek podcastu, to powinien być on na tyle szeroki,
aby Twoja podcastowa przygoda nie skończyła się po 3 minutach opowiadania.
To, co opisałem powyżej jest częstym problemem podcastów firmowych.
Najczęściej firmy robią 5 odcinków i ta seria wygląda mniej więcej tak:
1. Kim jesteśmy (godzina)
2. Co robimy (30 minut)
3. Jacy jesteśmy superfajni (kwadrans)
4. Ile mamy niesamowitych klientów (10 minut)
5. Odcinek na YOLO, bo musi być (max 10 minut)
i cisza…
Z czego wynika problem?
Z braku planu, z owczego pędu i niesystematyczności. Oraz z wyczerpania tematu.
Ile można opowiadać o swojej firmie i jej fajności?
A wystarczyłoby spytać handlowców o tematy, które się zawsze powtarzają w rozmowach z klientami.
A CEO firmy może opowiedzieć o swoim doświadczeniu, a jeśli w firmie są osoby techniczne, pomysł na odcinek podcastu to opisanie procesów, dzięki którym firma działa. A potem wystarczy zaprosić klientów, dopytać.
I tu zaczyna się coś, co nazywam podcastową kulą śniegową. Tematy same się rodzą.
Ktoś zna kogoś, ktoś poleci Ciebie. A potem zaczynają się biznesy.
Inspiracja z zewnątrz na pomysł na odcinek podcastu
Zobacz, czego brakuje i co można ulepszyć w Twoim otoczeniu.
Czy ostatnio ktoś żalił się na jakiś konkretny temat?
Czy w rozmowach z klientami/znajomymi/na forach w sieci jak bumerang pojawia się jakiś temat?
Nie kopiuj pomysłu innych firm, ale rozwijaj go.
Ciężko będzie zrobić drugiego Facebooka czy Gmaila.
Ciężko będzie być Markiem Jankowskim lub Szymonem Negaczem.
Zejdź niżej i pomyśl, czego brakuje, co można ułatwić sobie lub innym.
Może odpowiednie, bardzo proste rozwiązanie, które przyspiesza efektywność?
A może wiesz, co Twoi ulubieni podcasterzy robią nie tak?
Może się po prostu nie zgadzasz z kimś i chcesz o tym opowiedzieć światu?
Szukaj niszy
Aby zrozumieć niszę podcastu, odwołam się do pokrewnej branży.
Co to jest nisza rynkowa? To wycinek dużego biznesu, który może wymagać tylko konkretnego produktu lub usługi. Jeśli masz korporację taksówkarską, to niszą w tym biznesie są przewozy indywidualne z szoferem, dostępnym 24 godziny na dobę.
W świecie IT możesz postawić na wyróżniający się sposób obsługi sklepu internetowego, na przykład pisząc ręcznie podziękowanie za zakup, lub dowożąc produkt w jak najkrótszym czasie.
Dlaczego podcast niszowy się opłaca?
Możesz być pierwszy, znaleźć niezagospodarowane terytorium. Przykład niszy w szkoleniach online to kurs Macieja Aniserowicza "Droga Nowoczesnego Architekta". Duża część kursów IT jest skupiona na nauczaniu osób początkujących w stylu "Od zera do… w 6 miesięcy".
Idea kursu szła prąd. Twórcy zauważyli, że nie ma kursów dla osób z dużym doświadczeniem. Zebrał się zespół specjalistów, który stworzył wysokiej jakości cyfrowy produkt edukacyjny. Aniserowicz dodatkowo wykorzystał zasięgi w social mediach. Kurs był wielkim sukcesem, firmy chętnie opłacały szkolenie online dla swoich pracowników.
Cena miała mniejsze znaczenie, choć nie była niska. Konkurencji nie było, więc marketing był relatywnie tani.
I twórcy kursu nie zapomnieli o wersji mobilnej. Biznes mieli w kieszeni.
Gdy pomyślisz o niszowych podcastach np. o naprawie lamp albo o cyberbezpieczeństwie, to konkurencja okazuje się nie tak agresywna.
Przykład: Andrzej Dyjak stworzył podcast Bezpieczna Produkcja
Nie opowiada o cyberbezpieczeństwie tak jak to robi Niebezpiecznik. Nie chodzi o to, że dzwonią do Ciebie dziwni ludzie albo że wyskakuje Ci okienko, w które nie należy klikać.
Andrzej głębiej wchodzi w temat, operuje językiem zrozumiałym dla ludzi z branży IT, ale nie całej.
Dla przeciętnego zjadacza chleba ten język brzmi jak połączenie polskiego z angielskim i jeszcze jakimś językiem z kosmosu. Swój show Andrzej zaczął od wyjaśnienia podstaw, a teraz wgłębia się w każde zagadnienie, związane z technologią bezpieczeństwa.
Ale Andrzej wie, co robi. Nie kieruje podcastu do całej branży IT, a do konkretnych ludzi, zajmujących się małym wycinkiem świata IT. Daje się poznać jako spec, mówi do speców. A jak spec potrzebuje pomocy to do kogo się zwróci?
W IT nie zawsze cena jest jedyną wartością. Często można zapłacić więcej za o wiele lepszy serwis. A jeśli masz speca, który dzieli się wiedzą i z którym masz pewną relację dzięki podcastowi, to łatwiej jest podjąć pozytywną decyzję.
Pieniądze to na pewno nie jest jedyna motywacja Andrzeja, znam go osobiście i to jest ciekawy człowiek. Do tego miły i systematyczny. Widać i słychać, że podcastowanie mu się podoba.
Apple Podcasts i Spotify
Wejdź do tych dwóch aplikacji.
W Spotify w wyszukiwarce wpisz hasło, które będzie myślą przewodnią danego odcinka.
Przesłuchaj 3 pierwsze podcasty, które pokaże Spotify
Zapisz, czego Ci brakuje w tych odcinkach
Masz temat na następne kilka odcinków Twojego show.
W Apple Podcasts znajdź podcast o podobnej tematyce
Otwórz stronę podcastu
Zjedź na dół i zobacz, czego słuchają subskrybenci tego podcastu
Możesz zasugerować się tytułami show, które znalazł_ś w ćwiczeniu Spotify
I w ten sposób zobaczysz, jakie tematy mogą korespondować ze sobą.
Nawet jeśli to są niezwykle rozbieżne kategorie.
Styk pojęć, ogień z wodą – strefa cienia
Spróbuj działać tam, gdzie panuje strefa cienia. Pomysł na odcinek podcastu może się pojawić tam, gdzie łączą się pojęcia.
W strefie łączenia pojęć cechy dla każdej z branż zachodzą na siebie, niektóre się powtarzają. W ten sposób możesz wychwycić podobieństwa i znaleźć nisze do wykorzystania.
Krzysztof Kempiński prowadzi podcast Porozmawiajmy o IT. Krzysiek jest doświadczonym programistą, umie rozmawiać językiem technicznym, nie zapominając o zwięzłości i konkretach. Ma miły sposób pracy z mikrofonem, fajnie się Krzyśka słucha.
O czym opowiadają jego goście?
O językach programowania, frameworkach programistycznych, frontendzie, backendzie, AI, Big Data, psychicznym zdrowiu programisty, formie fizycznej, inwestowaniu, efektywności…
To zdrowie psychiczne tutaj zgrzyta? Nie! Bo każdy z nas powinien mieć spokój w głowie. A inwestowanie? Programiści często mają pewne zapasy gotówki. Przecież to bardzo dobrze opłacana grupa zawodowa.
Technologii IT jest mnóstwo, a na tę warstwę nakładają się jeszcze zwykłe ludzkie zagadnienia. Krzysiek postępuje sprytnie: najwyraźniej rozpisał sobie dobrze swojego idealnego słuchacza. Jeśli Porozmawiajmy o IT będzie operować na styku pojęć, to nie zabraknie mu tematów.
Zrób burzę mózgów
Najpierw sam tworzysz. Na kartce zapisz pomysł i daj sobie 30 minut na napisanie wszystkich możliwych pomysłów dotyczących tematów. Swobodna twórczość jest w tym przypadku najważniejsza. Nie oceniaj pomysłów. Jeśli przyjdą Ci do głowy myśli niezwiązane z tematem ćwiczenia, też je zapisz. I powróć myślami do szukania pomysłów.
Po kilku godzinach przeczytaj jeszcze raz i wykreśl to, co już istnieje lub z Twojej wiedzy, nie przejdzie.
Burza mózgów ze znajomymi/kolegami z pracy/podczas imprezy.
Może to być ciekawy pomysł na zabawę podczas towarzyskich spotkań. W końcu mamy lepszy czas i wreszcie (?) możemy się spotykać. Wystarczy kartka papieru i swobodny tok myślenia.
Każdy może coś wnieść do pomysłu. Nie oceniamy, bawimy się w wymyślanie.
Nawet najbardziej zakręcone pomysły mogą się rozwinąć w ciekawy sposób. Potem postępujemy jak z ćwiczeniem indywidualnym. Odrzucamy nierealne pomysły i krystalizujemy te bardziej realne.
Konkretyzuj swoje podejście do problemu
Zbyt szeroka grupa docelowa może rozwodnić rozwiązanie. Nie uzyskasz zamierzonego celu.
Nie musisz rozbijać pomysłu na atomy. Ważne, aby pomysł nie powielał obecnych rozwiązań.
Aby zawęzić krąg odbiorców, możesz przeprowadzić analizę idealnego słuchacza.
Niby to nieważne, a jak skonkretyzujesz, do kogo piszesz, to zaczną się pojawiać tematy.
Koledzy kolegów i koleżanek
Po każdym odcinku z gościem zapytaj, czy może kogoś ciekawego polecić do Twojego show. To pięknie działa, sam to robię po każdym podkaście Escola Mobile i grafik mam zapełniony na dwa miesiące do przodu.
Więcej pomysłów podcastowych
znajdziesz w newsletterze 👇