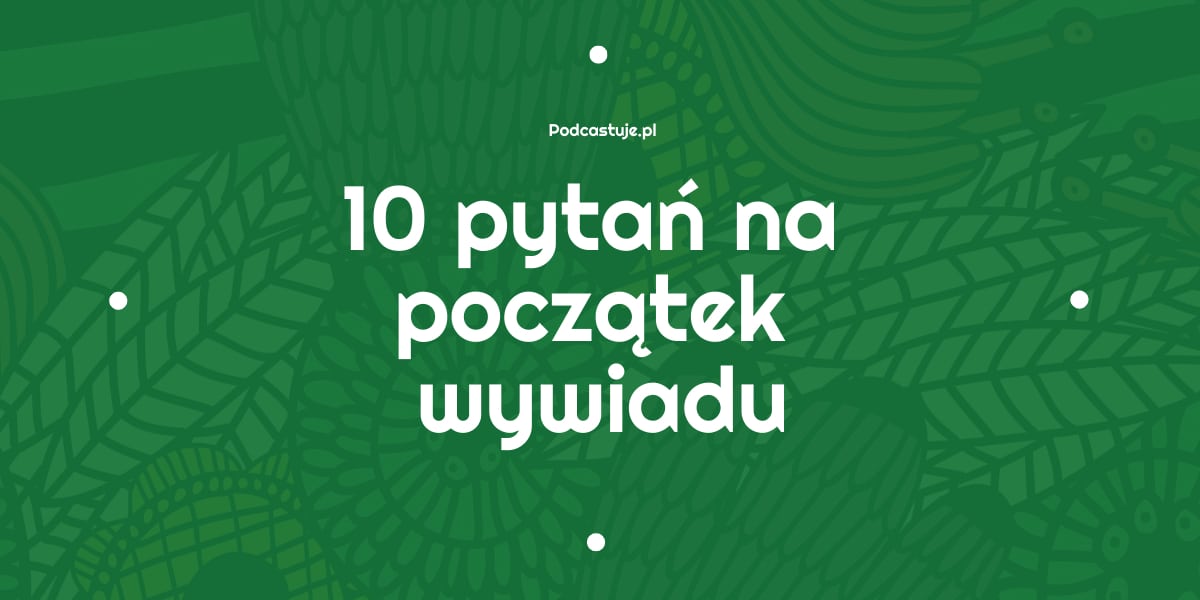 10 najlepszych pytań na początek podcastu
Podcaster to często człowiek orkiestra: marketer, montażysta, manager samego siebie, community manager i copywriter. Te rolespełniam także ja sam, tworząc ponad 100 odcinków podcastu jako gospodarz i niemal 150 jako producent podcastów mojej firmy.
Wszystkie wymienione powyżej role to nic. Pestka.
Znalezienie interesujących gości to nie jest najtrudniejszy kawałek tej zabawy. Już teraz wiele osób czuje moc podcastu i chętnie zgadza się na rozmowę.
Najtrudniejszy jest wywiad.
Najtrudniejsza jest sama rozmowa
Mam dla Ciebie 2 triki
– jak przełamać lody i zrobić dobry wywiad w podkaście
– od czego w ogóle zacząć i jak podtrzymać rozmowę (10 pytań)
Preinterview – rozgrzewka przed nagraniem
Mocno zachęcam do preinterview. To krótka rozmowa z gościem, bez nagrywania. Warto ją przeprowadzić np. tydzień przed nagraniem. Tego typu rozmowy robię najczęściej online.
Umawiamy się z gościem na 25 minut, dzięki czemu rozmowa idzie sprawnie.
Podczas rozmowy tworzy się atmosfera rozmowy
– ustalamy termin i tematy
– dopytuję, czy są tematy zakazane (bywają)
– opowiadam jak będzie wyglądać rozmowa
(jestem producentem, wyjaśniam i ustalam techniczne szczegóły)
– dowiaduję się jak można pomóc gościowi w promocji i czy potrzebuje czegoś ode mnie
Czego nie robię?

Unikam ustalania konkretnych pytań. Kilkukrotnie popełniłem błąd i ujawniłem, o co zapytam. W rezultacie gość odpowiedział sobie w głowie na moje pytanie i tyle było z podcastu. Podczas właściwej rozmowy nie miał już nic do powiedzenia. Nieujawnianie pytań to najwyraźniej dobra zasada, nauczyłem się jej od Kasi Błaszczyk z Torby Reportera i Podcastera po jednym fatalnym wywiadzie. Dziękuję Kasiu.
Najtrudniej w wywiadzie (dla mnie) to otworzyć buzię i słuchać. Dlatego opracowałem sobie prostą listę. Dzielę się nią z Tobą.
Przygotowałem dla Ciebie listę moich pytań rozwijających wywiad
Te pytania możesz zastosować minimum w trzech miejscach:

na rozgrzewkę

do podtrzymania rozmowy

na końcu, aby ją zakończyć
10 najlepszych pytań, dzięki którym Twój wywiad w podkaście będzie soczysty
1. Jak trafiłeś do obecnego miejsca/w daną sytuację/ do branży/biznesu?
Warto zadać na początku rozmowy. Niektórzy z Twoich słuchaczy mogą wiedzieć niewiele (lub nawet nic) o Twoim gościu. To pytanie otwiera drzwi, a nierzadko służy jako wytrych.
Czasem gość musi się rozpędzić, więc pytanie początkowe może nie być wielkim wow. Ale w tym momencie nie musisz załamywać rąk. Dopytaj, dociągnij temat jak gość się znalazł w tym miejscu.
Protip: jeśli początek rozmowy jest monotonny, użyj informacji o gościu w intro, a sam początek wytnij. Obowiązkowo poinformuj gościa o tym, ale uspokój go, że opowiedziałeś o nim w intro.
A jeśli gość już na początku opowiada energicznie – może to być inspiracja dla słuchaczy. Lubimy słuchać jak ktoś wypracował sobie świetną pozycję, ma ciekawy dorobek albo po prostu odniósł sukces. Osoby z wypracowaną marką osobistą będą pięknie opowiadać o wzlotach i upadkach. A te kochamy najbardziej w opowieściach.
2. Jakie jest obecnie Twoje największe wyzwanie?
To pytanie możesz wpleść w dalszą część rozmowy, gdy zaczniecie zgłębiać temat. Bez względu na karierę lub branżę, w której pracuje Twój gość, każdy ma do pokonania góry i przeszkody. To może być wyzwanie wewnętrzne, to może być problem w pracy. Jako pytanie dodatkowe, często dodawałem: jak zamierzasz pokonać ten problem/wyzwanie?
3. Jak się uczysz?
Niekoniecznie chodzi o daty historyczne czy rachunki na matmie.
Dużym odkryciem dla wielu z nas jest zrozumienie, jak mało wiemy.
Twój gość/gościni może podzielić się interesującymi zasobami, ciekawymi stronami w sieci, książkami albo informacją, której nikt nigdy nie słyszał. Jeśli chodzi o Twoich odbiorców, prawdopodobnie będzie to niemniej ciekawe dla nich. W końcu poświęcają Ci czas i czekają na coś ciekawego od gościa.
Pamiętaj też, aby wspomnieć swoim słuchaczom, że linki, tytuły, kontakty z rozmowy znajdą w notatkach do podcastu.
4. Co nie pozwala Ci zasnąć w nocy?
Jeśli chcesz otworzyć drzwi do mocnych rozmów o pasji, wypróbuj to pytanie. Warto drążyć temat. Nie bójmy się odmowy na pytanie. Bywa, że gość nie chce się zagłębiać w temat. Bywa, że gość otwiera się po którymś pytaniu. To normalne, w bieganiu czy na rowerze też musimy się rozkręcić.
W podcastach mamy jeszcze element zaufania.
Warto być innym.
Warto mieć swój styl.
Inaczej jest lepiej niż lepiej.
Jeśli zapytasz: czym się pasjonujesz, nierzadko otrzymasz odpowiedź o książkach, filmach, sporcie, podróżach czy rozwoju osobistym. Zapytanie o to, co nie pozwala im zasnąć w nocy, to dobry sposób, aby poprowadzić gościa do omówienia swoich pasji w bardziej angażujący sposób.
5. Jaka była Twoja największa porażka/najgorszy moment w Twojej karierze/życiu?
Proponuję zadać to pytanie na samym początku, aby zainteresować słuchacza. Możesz także zapytać o to, gdy wejdziecie głębiej w temat. Ważne, aby dopytywać. Unikniesz banałów o nieustannym rozwoju (jak nasz prezydent, co się ciągle uczy).
Dwa tematy wyżej zaproponowałem pytanie o naukę, ale to nie jest to samo.
Banał: "Taaaak, ciągle się rozwijam i uczę"
kontra:
"Ostatnio uczę się z książki o tytule X, czytam blogi Y, subskrybuję newsletter Z"
Te informacje możesz wykorzystać, aby dać kolejną wartość słuchaczom. Rozmowa nie musi być piciem z dzióbków i masowaniem nóżek.
(to zostawmy dla naszych ukochanych)
Porażki i trudne chwile to zazwyczaj momenty, w których ludzie sukcesu nauczyli się najwięcej podczas swojej podróży. Lubimy jak się nie udaje, a potem bohater się podnosi i stawia czoła przeciwnościom. Każdy film o herosach jest o tym.
6. Jaki jest twój ulubiony cytat?
To może wydawać się prostackie i nudne, ale znajdziesz mnóstwo ciekawych odpowiedzi otrzymasz od gości. Kto nie lubi cytatu, który nas zmusza do myślenia, albo (o zgrozo) inspiruje?!

Cytat może być początkiem głębszej rozmowy. Wystarczy dopytać, jak się to odnosi do Twojej pracy/biznesu/miejsca w życiu.
7. Gdybyś nie pracował w swoim własnym zawodzie/dziedzinie, jaką inną karierę byś wybrał/a?
Brzmi trochę jak pytanie: "jakim zwierzęciem byłbyś w arce Noego?" z korporozmów na kolejne ważne i niezrozumiałe stanowisko. Jednak wielu z nas ma skryte pasje, niespełnione marzenia albo pragnienie, by zrobić coś niesamowitego. Gdybym nie był podcasterem, chciałbym zostać programistą-podróżnikiem.
A kim Ty chciał(a) byś być?
To pytanie może wydobyć z gościa nieoczekiwaną odpowiedź. A Ty drąż temat.
8. Co motywuje Cię do wstania z łóżka?
A co Ciebie motywuje? Ciekawość świata? Co będzie dziś? Pieniądze? Brak wyboru? Pies? Kot? Zasłony przepuszczające światło? To pytanie może mieć mnóstwo różnych odpowiedzi i pozwoli rozkręcić rozmowę. Może być tak samo oryginalne, jak pytanie o powód, który powstrzymuje przed snem.
W odpowiedzi możesz usłyszeć pasje gościa, bez pytania wprost o zainteresowania. Może to być także pewna motywacja życiowa. Nawet rozmowy stricte o technologii czy biznesie mogą mieć odcień ludzki. A słuchacze lubią ludzi, nie lubią robotów.
9. Co chciałbyś wiedzieć, kiedy zaczynałeś?
Niedawno na Linkedinie zadano wziąłem udział w dyskusji nt. jak osiągnąć sukces przed 30 rokiem życia.
Zamiast zbijać bąki na studiach, chciałbym na nie nie pójść i zacząć pracować nad czymś swoim już w wieku 18/19 lat. Przed trzydziestką miałbym tyle doświadczenia, co teraz, przed czterdziestką. Ale byłbym dekadę do przodu.
A co Ty chciał/a byś wiedzieć wcześniej?
Przeprowadzając wywiady z gośćmi, którzy mają doświadczenie w swoich umiejętnościach lub karierze, łatwo zapomnieć, że prawdopodobnie są słuchacze, którzy aspirują do podążania ich śladami, którzy chcą usłyszeć wskazówki i porady dotyczące tego wczesnego etapu. To pytanie pozwoli tym słuchaczom skorzystać z twojego wywiadu.
10. Stałe pytanie
To chwyt typu "danie szefa kuchni". Zadajesz je zawsze na początku, jego celem jest rozkręcenie rozmowy i rozgadanie się. Marek Jankowski zadaje pytanie o przeczytaną książkę. Krzysiek Kempiński  – podobnie, Krzysztof Wojewodzic robi ciut inaczej – wita w Escola Mobile Live, robi 3 zdania wprowadzenia o gościu i zadaje pytanie, dzięki któremu gość opowiada o sobie. Sam w Developer Wannabe zadawałem pytanie o pierwszy komputer.
Nic nie stoi na przeszkodzie, aby drugie firmowe pytanie zadać na końcu. Dzięki niemu unikniesz opowieści typu: no to na koniec, bo już zbliżamy się do końca rozmowy… Zamiast tego zadaj jeszcze jedno oryginalne pytanie. Część Twoich słuchaczy chętnie przesłucha do końca odcinka. Zwłaszcza, gdy odpowiedzi będą zawsze inne i zawsze zaskakujące. Świetnym tego przykładem jest Tim Ferriss, który lubi pytać: "Gdybyś mógł umieścić coś na billboardzie, co byś na nim napisał?"
Obecnie ja sam bym napisał gorące pozdrowienia do rosyjskiego statku wojennego.
10.5 Zanotuj podczas wywiadu to, co budzi się w Twojej głowie
Dlaczego? Ponieważ potem możesz je wyciąć i wykorzystać do marketingu. Tym samym zachęcisz nowych słuchaczy do subskrypcji. Pokaż fajną odpowiedź gościa, interesujący temat czy nietypową myśl. Możesz taki fragment wyciąć w Audacity/Reaper/Adobe Audition, albo jeszcze lepiej – podepnij RSS do Headliner App i stwórz krótki film promocyjny z napisami. I marketing sam się robi.