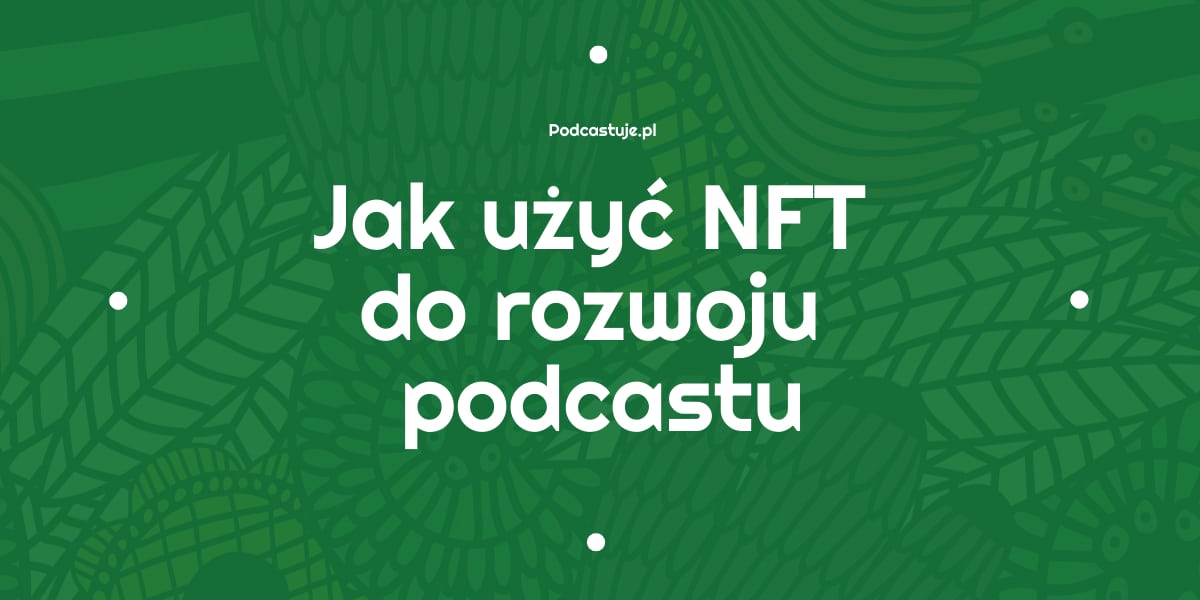 Podcast NFT – jak ta technologia wzbogaci Twój show
Blisko technologii, zawsze mnie to kręciło, choć często nie rozumiałem. Jeśli technologia nie jest Twoją silną stroną, to absolutnie nie pomijaj tego postu. Napisałem go tak, aby zrozumieć samemu, o czym mówię/piszę/nagrywam.
NFT przyda się w każdej Twojej działalności, także jeśli masz podcast.
Podcast NFT to nie tylko ładny obrazek. Albo taki śmieszny, z małpą.
Możliwości rozwoju firmowych/markowych/osobistych dzięki Podcast NFT
Być może NFT pojawiło sie w Twoim świecie.
Mieliśmy okazję usłyszeć o sprzedaży obrazka z małpą za miliony dolarów albo filmy z najlepszymi akcjami
Michaela Jordana z '96. Pliki, obrazki czy śmieszne monety z głową psa nie muszą być głupie, jeśli uchwycisz sens NFT.
Nie ma wątpliwości, że ta technologia będzie rosła. Sam uczestniczę w kilku akcjach, wykorzystujących NFT do rozwoju firmy i mojej działalności.
Niewymienialny token (NFT) przyda się też w podcastingu.
A technologia jest na tyle świeża, że masz szansę się wybić jako jeden z pierwszych podcasterów.
A podobno nie musisz być najlepszy, ale warto być pierwszym.
Co to jest NFT
Niewymienialny token. To rodzaj podpisu cyfrowego.
Raz podpisany wirtualny/materialny przedmiot ma swój adres w sieci w postaci ciągu cyfr i liter. 
Dzięki technologii blockchain nie można podrobić tego podpisu ani go ukraść.
Jeśli chcemy, możemy go sprzedać za euro/dolary/złotówki/kryptowalutę albo przekazać za darmo.
A jeśli nie, to zostanie on w Twoim wirtualnym portfelu, dopóki będzie istniał internet.
Dodatkowo mint, czyli wybijanie/podpisywanie NFT jest przeprowadzone na tyle bezpiecznie, że nikt nie jest w stanie Ci zabrać tego pliku.
NFT PODCAST – jak użyć i jak zacząć
Jeśli możesz ograniczać dostęp do jakiegoś dobra, to zawsze możesz dać za to cenę. To z kolei pomoże Ci w tworzeniu wielu inicjatyw, dzięki którym Twój podcast może być centrum Twojego biznesu.
NFT jest narzędziem budowania creator economy. Z grubsza mówiąc – może to być zapłata za dostęp do Ciebie, Twoich treści czy osobistych relacji, jak np. spotkanie raz na jakiś czas albo uczestnictwo w mastermindach.
PAAS
Z Ameryki przychodzi tendencja PaaS, czyli Person as a Service. To brzmi strasznie, sugeruje niezdrowe relacje i ubezwłasnowolnienie. Ale po polsku nazywa się usługami, spotkaniami lub consultingiem.
A jeśli używasz podcastu w marketingu (jeśli jeszcze tego nie robisz…dlaczego?),
to NFT może pomóc w ofercie oraz monetyzacji Twojego podcastu. 
Podcast nie sprzedaje, ale tworzy markę i otwiera możliwości.
Jeśli słuchacz/widz/fan kupi dostęp do Ciebie przez NFT, otrzyma bonusy, a najlepiej jeśli dostanie więcej niż się spodziewał. Podcast buduje markę, ociepla Twój wizerunek, przybliża do potencjalnego klienta. Podcasty mają moc, tę moc można monetyzować.
Pojęcie opłaty za usługę czy dostęp nie jest nowy, tylko podany w innym sosie.
Tworząc NFT Podcast dla swojej działalności i sprzedając w podcastach zainteresowanym, mogą oni uzyskać dostęp do Twoich usług. Np. dłuższych konsultacji, lepszej obsługi czy dodatkowych bonusów w przyszłości.
NFT Działa podobnie jak dostęp do kursu podcastu premium. Opłacając dostęp roczny czy miesięczną subskrypcję, Otrzymujesz nie tylko więcej konsultacji w cenie jednej, ale też szybszy dostęp do mojej wiedzy, zniżkę jeśli zdecydujesz się na współpracę ze mną i dodatkowe treści w mailach.
Opłata/napiwek za odcinek
W swojej podcastowej historii mam kilkadziesiąt płatnych odcinków. Część firm chciała dotrzeć tym samym do zaangażowanych słuchaczy, inni zapłacili mi za stworzenie odcinka podcastu na konkretny temat. Oprócz tego są osoby, które dały mi napiwek za "fajny podcast" i słuchacze, którzy zamówili u mnie wywiad z wybraną osobą.
Uważam, że każdy Twórca powinien mieć możliwość zarabiania na swojej wiedzy, twórczości, aktywności. W końcu płacimy nie tylko uwagą. Attention economy się zepsuła, bo rządzą nią algorytmy. Algorytmy z kolei promują podziały, kontrasty i różnice. Stąd tyle hejtu w sieci i popularność teorii spiskowych. Algorytmy wiedzą, że to nas porusza i dzięki temu dłużej zostajemy w sieci. Czyli konsumujemy treści, nierzadko szkodliwe lub po prostu głupie.
Zauważyłem, że o wiele prościej jest z opłatą, gdy wysyłam link do opłaty, niż gdy wystawiam fakturę do opłacenia w ciągu X dni. Te faktury często muszą objechać wszystkich świętych i dopiero po tym rajdzie następuje opłata.
Wkrótce kryptowaluty będą coraz mocniej wchodziły w opłaty za codzienne sprawy. Klik na telefonie, czy skanowanie kodu QR, z którym będzie stała opłata jest łatwiejszy i szybszy. I może tu zadziałać zasada mikropłatności, którą znamy z gier online. Tam kupujesz super miecze, a tu Ty, jako twórca możesz otrzymać kilka złotych/ułamek bitcoina za ciekawy odcinek.
W zamian za opłatę możesz ustawić obrazek/dźwięk/podziękowania video jako dodatkowy bonus za wsparcie Twojego podcastu.
Czym NFT różni się od Patronite?
Jest jeszcze prostsze w obsłudze. Nie wymaga podpinania karty (bo płacisz np. bitcoinem przez link) oraz jest o wiele bliżej, bo słuchacz nie musi przechodzić do innych stron, aby Cię wesprzeć.
Dołącz do newslettera dla podcasterów biznesowych 👉 https://kurspodcastu.pl/
Wejściówka
Jeśli tworzysz podcasty, znasz siłę społeczności. I wady społeczności w sieciach jak Facebook i Linkedin. Sam mam problem, aby prowadzić społeczność tego newslettera. Z prostej przyczyny: pracuję jako etatowy podcaster, a moja rodzina wymaga tak samo dużo czasu, jak praca. Dlatego trudno mi samemu rozkręcić grupę.
Podcast NFT może być biletem na Twój event, wydarzenie, szkolenie. 
Ale także możesz użyć NFT jako klucz do społeczności, np. na Discord albo Circle.
Jeśli prowadzisz bibliotekę wartościowych treści, NFT może być kluczem do Twoich ekstra podcastów, albo do wartościowych analiz/informacji/postów na blogu. Dostępne tylko dla członków społeczności.
Dodatkowe dwa pomysły podsunął mi Bartek Bilicki ze Smartverum: dostęp do społeczności może być ograniczony czasowo, co zwiększy jego wartość w następnym kroku, jeśli rozwiniesz społeczność i będzie ona miała realne korzyści dla członków.
Przykład:
Tworzysz NFT na rok. NFT nie ma daty ważności, ale po upływie tego czasu otwierasz drzwi dla kolejnych osób. Na pewno nie zapominasz o aktualnych członkach społeczności. Otrzymują nowe NFT za darmo lub za ułamek jego wartości.
Jeden, by wszystkimi rządzić
Istnieją osoby, które słuchają każdego Twojego odcinka. Te osoby lubią Cię, bo spędzają z Tobą/z Twoją firmą mnóstwo czasu. Uczysz je, bawisz, wskazujesz drogę.
A gdyby tak ktoś z Twoich fanów chciał jakiś odcinek na własność?
Może to być wyraz sympatii do Ciebie, a może być to także inwestycją w dobra cyfrowe.
NFT pozwala na podpisanie oryginalnej wersji Twojej twórczości (podcast, video, grafika, tekst). Jest to pieczątka niezmywalna, niepodrabialna i istnieje na zawsze.
Nasze naturalne zbieractwo
Zbieractwo, choć brzmi jak choroba, jest dla nas naturalne. Lubimy gromadzić.
Lubimy kolekcjonować. Ktoś kolekcjonuje znaczki, a ktoś buty. Przez wiele lat kolekcjonowałem książki, aż zobaczyłem, że mam mniej czasu na czytanie. Dlatego teraz kupuję jedną na miesiąc. A było gorzej (nawet do 15).
Na pewno masz czegoś więcej niż wszyscy.
Słuchanie podcastów jednego wykonawcy też ma znamiona naturalnej skłonności do kolekcjonowania. Są już podcasty, sprzedające tzw. merch, czyli np. koszulki czy kubki z logo albo nakładki na mikrofon z odpowiednim napisem.
NFT w postaci ciekawych grafik może być czymś, co docenią Twoi słuchacze. Wariacje na temat logo, możliwość dodania swojego zdjęcia do logo ulubionego podcastu/podcastera/całej audycji… Tu możliwości jest wiele.
Ale to możliwości szablonowe. A inaczej jest lepiej niż lepiej.
Część NFT może mieć specjalne właściwości. Np. może dawać coś nowego dla społeczności podcastu albo generować dodatkowe benefity. Są NFT generujące swoją walutę, którą potem możesz sprzedać i uzyskać złotówki czy euro.
A może zechcesz współpracować z jakimś ciekawym grafikiem NFT?
Podcast może być nośnikiem Twojej NFT idei, dzięki której słuchacze wejdą z Tobą w relacje. A relacje tworzą możliwości.
A co jeśli zrobisz 100 wariantów logo Twojego podcastu, z czego 5 będzie dawało super przywileje Twoim słuchaczom (np. wybór tematów), 3 dodatkowe to bezpłatne zaproszenia do Twojej audycji, a 2 to bezpłatna pomoc właścicielom?
Wystarczy tylko ładnie rozegrać to marketingowo, unikać nawiązań do loterii i promować, promować, promować.

Żeby nie było tak słodko
NFT i blockchain to bardzo młode technologie, które dopiero wchodzą w świat. A jak coś jest nowe, to często trochę trwa, aby się dostosowało do realiów, utworzyło nowe i wykreowało nową wartość.
Przykładem mogą być zagadnienia własności intelektualnej. Co jeśli sprzedasz komuś kawałek podcastu, a potem stwierdzisz, że niekoniecznie dobrze robisz?
Inny przykład: elementy blockchain niekoniecznie są zawsze przyjazne środowisku. Generują dużo poboru mocy, co wpływa na emisję gazów cieplarnianych. Tu na szczęście są już waluty, których generowanie wymaga tyle mocy, co jedno wyszukiwanie w Google.
Kryptowaluty i NFT mogą także generować pewne zapytania finansowe. Dokładniej mam na myśli kwestie podatkowe, rozliczeniowe i np. zeznania roczne, zwłaszcza w kontekście własności intelektualnej i praw autorskich.
Te tematy będą rozwijane w następnych latach, bo nie wierzę, że kryptorynek upadnie. Raczej będzie iterować, zmieniać się i rozwijać. Dlatego moją rekomendacją jest: uczymy się kryptorynku, inwestujemy tyle, ile możemy stracić (choćby 50 zł) i szukamy okazji. Nie sądzę, aby to była bańka. Raczej widzę możliwości.

I zalecam ogromną ostrożność.